Staff
Josua Sassen, M.Sc.

Contact Information
Address:
Institut für Numerische Simulation
Endenicher Allee 60
53115 Bonn
E-Mail:
ed tod nnob-inu ta nessas tod ausoja tod b@foo tod de
My research is concerned with variational problems in geometry processing. Broadly speaking, I am interested in numerical methods for such problems arising from shape spaces and shape optimization. These typically find applications in computer graphics and geometric design. Recently, I have also become interested in using techniques from machine learning to tackle these problems. My detailed CV can be found here.
Teaching
Summer semester 2021
See teaching activities of the whole group.
Current Research Projects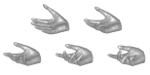 Publications

Association of Reading Performance in Geographic Atrophy Secondary to Age-Related Macular Degeneration With Visual Function and Structural Biomarkers.

S. H. Künzel, M. Lindner, J. Sassen, P. T. Möller, L. Goerdt, M. Schmid, S. Schmitz-Valckenberg, F. G. Holz, M. Fleckenstein, and M. Pfau.

JAMA Ophthalmology

, 2021.

BibTeX DOI